Peningkatan Rendemen Dan Komposisi Citronelal pada Minyak Daun Jeruk Purut Melalui Optimasi Laju Alir Kondensat
Keywords:
Daun jeruk purut, distilasi, minyak atsiri, laju alir kondensat, rendemen, komposisi mayor.
Abstract
Minyak atsiri daun jeruk purut diisolasi menggunakan metode distilasi uap. Dalam proses distilasi uap, perolehan minyak dapat dimaksimalkan melalui optimalisasi laju alir kondensat.  Laju kondensat berkaitan dengan besarnya laju uap dimana laju uap akan mempengaruhi besarnya panas yang diberikan pada bahan dan besarnya tekanan uap air dalam kolom distilasi saat proses distilasi sedang dilakukan. Penyulingan dilakukan dengan seperangkat alat distilasi uap. Rangkaian alat terdiri atas boiler, kolom distilasi, kondensor, dan penampung distilat, dan labu florentine. Bahan yang digunakan berupa daun jeruk purut. Penyulingan dilakukan pada kondisi tekanan atmosferik. Penyulingan dilakukan selama 6 jam dengan variasi laju alir kondensat 1 L/jam, 2 L/jam, dan 3 L/jam. Distilat yang diperoleh akan ditampung dan minyak dalam distilat akan dipisahkan menggunakan labu Florentine dan penyaringan vakum. Pengujian terdiri atas pengukuran rendemen dari proses distilasi dan pengujian kualitatif untuk mengetahui komposisi senyawa dalam minyak atsiri melalui analisa Gas chromatography-mass spectrometry (GC-MS). Rendemen yang dihasilkan pada laju kondensasi 1 L/jam, 2 L/jam, dan 3 L/jam secara berturut-turut sebesar 0,31%, 0,40%, dan 0,39%. Laju alir kondensat 2 L/jam merupakan laju alir paling optimum dengan rendemen 0,40% serta komposisi senyawa mayor citronellal 57,38%; linalool 6,4%; isopulegol 15,52%; terpeniol 5,17%; sitronelil asetat 3,22%; dan sitronelol 4,81%.
References
Anshori, J.A. 2009. Siklisasi Intramolekuler Citronellal Dikatalisis Zeolit dan Bahan Mesoporus. Karya Tulis Ilmiah. Bandung: Universitas Padjajaran.
Baser, K. Husnu Can & Buchbauer, Gerhard. 2010. Handbook of Essential Oil Science, Technology, & Applications. Boca Raton: CRC Press.
Fitriady, Muhammad Arifuddin; Sulaswatty, Anny; Agustian, Egi; S. 2016. Steam distillation extraction of ginger essential oil: Study of the effect of steam flowrate and time process . Tangerang. American Institute of Physics.
Gilbert, John. C dan Stephen F. Martin. 2011. Experimental Organic Chemistry. Boston: Cengage Learning.
Indriyanti, Citra P. 2013. Identifikasi Komponen Minyak Atsiri Pada Beberapa Tanaman Dari Indonesia Yang Memiliki Bau Tidak Sedap. Bandung. UPI.
Kabuga, John Tshilenge. 2009. Steam Extraction of Essential oil: Invetigation of Process Parameters. Johannesburg. University of Johannesburg
Lienhard, John H. 2005. A Heat Transfer Textbook. Massachusetts:Philogiston Press . Santa Cruz Biotechnology. 2018. Chemical Product Information. https://www.scbt.com/product (diakses pada 08 September 2018).
Silva, C. F. 2011. Extraction of Citronella (Cymbopogon Nardus) Essential Oil Using Supercritical CO2 : Experimental Data and Mathematical Modeling. Brazilian Journal of Chemical Engineering. Vol. 28: No.02
Turek, Claudia & Florian C. Stintzing. 2013. Stability of Essential oil. Comprehensive Reviews in Food Science and Food Safety. Vol. 12: 2013 .
Wongpornchai, S. 2012. Handbook of herbs and spices. Thailand: Woodhead Publishing.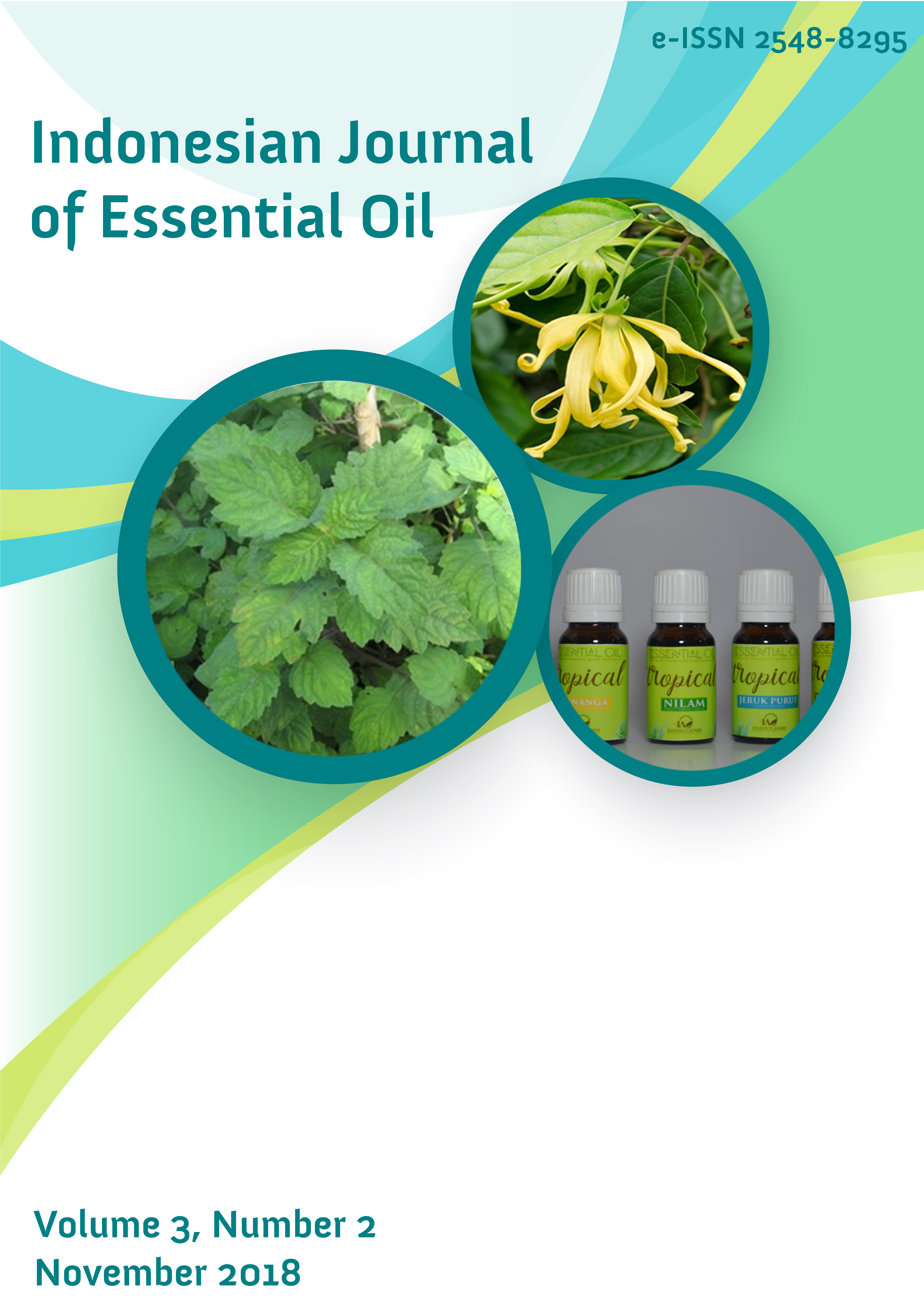 Downloads