Hubungan Lama Distilasi, Kandungan Senyawa, dan Bioautografi Antioksidan Minyak Atsiri Bangle (Zingiber purpureum)
Keywords:
Rimpang, Minyak atsiri, Zingiber purpureum, bioautografi, waktu distilasi
Abstract
Bangle (Zingiber purpureum) merupakan salah satu tanaman obat yang mengandung minyak atsiri. Untuk mengambil minyak atsiri dari rimpang bangle dapat dilakukan distilasi dengan perbedaan lama distilasi. Tujuan penelitian ini adalah menentukan kadar minyak atsiri dari rimpang bangle dan membandingkan kandungan senyawanya berdasarkan waktu distilasi yang berbeda. Minyak atsiri bangle didistilasi dengan perbedaan rentang waktu, yaitu 0-3 jam, 3-6 jam, dan 6-9 jam. Rendemen minyak atsiri yang diperoleh berbeda walaupun selang waktu yang digunakan sama. Kadar senyawa minyak atsiri berbeda bergantung pada lama waktu distilasi. Perbedaan tersebut ditentukan melalui kromatografi gas-spektrometri massa. Kandungan senyawa sabinena optimum pada waktu distilasi 0-3 jam, osimena pada rentang waktu 3-6 jam, dan naftalena pada rentang waktu 6-9 jam. Profil kromatografi lapis tipis dan bioautografi antioksidan terhadap DPPH untuk ketiga minyak juga ditentukan.
References
Ahmad A, Husain A, Mujeeb M, Khan SA, Alhadrami HAA, Bhandari A. 2015. Quantification of total phenol, flavonoid content and pharmacognostical evaluation including HPTLC fingerprinting for the standardization of Piperningrum Linn fruits. Asian Pacific Journal of Tropical Biomedicine. 5(2): 101-107
[AOAC] Association of Official Analytical Chemistry. 2006. Official Methods of Analysis of AOAC International 971. Meyrland (US): AOAC International.
Astarina N.W.G., Astuti K, W. Warditiani N.K. 2013. Skrining fitokimia ekstrak methanol rimpang bangle (Zingiber purpureum). Jurnal Farmasi Udayana. 1(1): 1-7
Bua-in S, Paisooksantivatana Y. 2009. Essential oil and antioxidant activity of cassumunar ginger (Zingibereace: Zingiber montanum (Koenig) Link ex Dietr.). Kasetart J. Nat Sci. 43:467-475.
Ciesla L. 2012. Biological fingerprinting of herbal samples by means of liquid chromatography. Chromatography Research International, 2012: 1-9. doi: 10.1155/2012/532418.
Handayani S, Kristianingrum S. 2005. Kromatografi lapis tipis untuk penentuan kadar hespedirin dalam kulit buah jeruk. Jurnal Penelitian Saintek, 10(1): 5368.ISSN:1412-3991.
Kamazeri TSAT, Samar OA, Taher M, Susanti D, Qarraleh H. 2012. Antimicrobial activity and essentials oil Curcuma aeruginosa Curcuma mangga and Zingiber cassumunar from Malaysia. Asian Pacific of Tropical Medicine. 202-209
Lade BD, Patil AS, Paikrao HM, Kale AS, Hire KK. 2014. A comprehensive working, principles and applications of thin layer chromatography. Research J of Pharma, Biol and Chem Sci. 5(4): 486-503. ISSN: 0975-8585.
Liang YZ, Xie P, Chan K. 2004. Quality control of herbal medicines. Journal of Chromatography. 812:53-70.
Reich E, Shibli A. 2006. High Performance Thin Layer Chromatography for The Analysis of Medicinal Plants. New York (US): Thieme Medical Publishers, Inc.
Wang Y, You CX, Yang K, Wu Y, Chen R, Zhang WJ, Liu ZI, Du SS, Deng ZW, Geng ZF, Han J . 2015. Bioactivity of essential of Zingiber purpureum rhizomes and its main compounds against two stored product insect. Journal of Economic Entomology. 1-8
Wijayakusuma HMH, Dalimartha S,Wirian AS. 1997. Tanaman Berkhasiat Obat di Indonesia. Jakarta (ID): Pustaka Kartini.
Wirasutisna K R, Sukrasno, Nawawi A, Marliani L. 2012. Pengaruh pengolahan bahan terhadap kadar dan komponen minyak atsiri rimpang Zingiber cassumunar Roxb. Acta Pharmaeutica Indonesia.36(2):64-69
Wulandari R. 2011. Fraksionasi senyawa aktif minyak atsiri bangle (Zingiber purpureum) sebagai pelangsing aromaterapi [skripsi]. Bogor (ID): Institut Pertanian Bogor.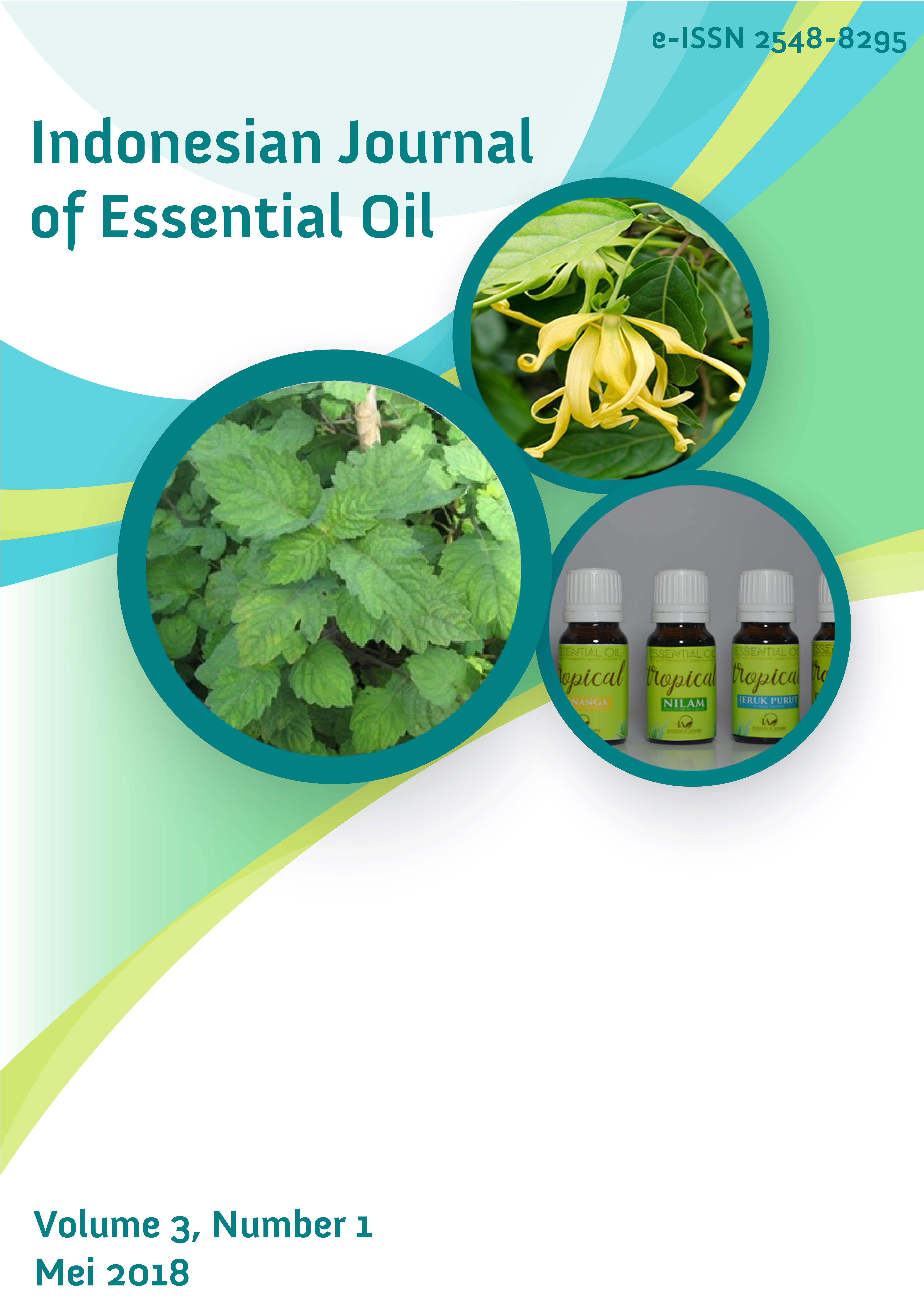 Downloads