Intensifikasi Proses Penyulingan Minyak Atsiri dari Daun Jeruk Purut dengan Metode Ultrasound following Microwave Assisted Extraction (US-MAE)
Keywords:
minyak daun jeruk purut, gelombang mikro, sonikasi, US-MAE
Abstract
Proses penyulingan minyak atsiri dari daun jeruk purut dilakukan melalui dua proses, yakni ekstraksi dengan menggunakan bantuan gelombang mikro (microwave) disertai tahap radiasi gelombang ultrasonik (sonikasi) bahan baku dan ekstraksi tanpa tahap sonikasi. Penelitian ini dilakukan untuk mengkaji pengaruh sonikasi terhadap proses penyulingan, dengan parameter yang diamati antara lain adalah waktu dan suhu sonikasi. Selain itu, pengaruh tahap ekstraksi dengan gelombang mikro juga turut diamati, yakni parameter waktu ekstraksi dan daya gelombang mikro serta rasio bahan baku terhadap pelarut yang digunakan. Pada proses penyulingan minyak daun jeruk purut tanpa tahap sonikasi, yield minyak yang tertinggi yakni 1,0451% diperoleh pada daya 199,5 watt, waktu ekstraksi selama 60 menit dan rasio bahan baku terhadap pelarut sebesar 50 gr/350 ml pelarut. Sedangkan, hasil yang lebih tinggi diperoleh pada proses ekstraksi disertai tahap sonikasi yakni sebesar 1,6840% dengan waktu radiasi selama 5 menit, suhu sonikasi 25oC, daya gelombang mikro 200 watt, waktu ekstrasi selama 60 menit dengan rasio bahan baku terhadap pelarut sebesar 50 gr/350 ml pelarut. Hasil penelitian ini menunjukkan bahwa intensifikasi proses dengan metode US-MAE mampu menghasilkan yield minyak daun jeruk purut yang lebih besar daripada metode konvensional (0,33%) dengan waktu ekstraksi yang sangat singkat.
References
Bagherian, H., Ashtiani, F.Z., Fouladitajar, A., Mohtashamy, M. (2011), "Comparisons between conventional, microwave- and Ultrasonic-assisted Methods for extraction of pectin from grapefruitâ€, Chemical engineering and Processing, 50, 1237-1243.
Chemat, F., Huma, Z., Khan, M.K. (2013), "Application of Ultrasonic in food technology : Processing, preservation, and extractionâ€, Ultrasonics Sonochemistry, 18, 813-835.
Dettere, S., Rega, B., Delarue, J., Decloux, M., Lebrun, M., Giampaoli, P. (2011), "Identiï¬cation of key aroma compounds from bitter orange (Citrus aurantium L.) products: essential oil and macerate–distillate extractâ€, Flavour and Fragnance Journal.
Issartier, S.P., Ginies, C., Cravotto, G., Chemat, F. (2010), "A comparison of essential oils obtained from lavandin via different extraction processes: Ultrasound, microwave, turbohydrodistillation, steam and hydrodistillationâ€, Journal of Chromatography, 1305, 41-47
Jiao, J., Fu, Y.J., Zu, Y.G., Luo, M., Wei, W., Zhang, L., Li, J., (2010), "Enzyme assisted microwave hydro-distillation essential oil from Fructus forsythia, chemical constituents, and its antimicrobial and antioxidant activitiesâ€, Journal of Food Chemistry, 134, 235-243.
Koswara, S. dan Khasanah 2015, "Menyuling dan Menepungkan Minyak Asiri Daun Jeruk Purutâ€, Bogor : Institut pertania Bogor.
Lianfu, Z., Zelong, L. (2008), "Optimization and comparison of ultrasound/microwave assisted extraction (UMAE) and ultrasonic assisted extractionâ€. Journal of Ultrasonics Sonochemistry 15 (2008) 731–737. (UAE) of lycopene from tomatoes
Mandal, V., Mohan, Y., dan Hemalatha, S. (2007) , "Microwave Assisted Extraction-An Innovative an Promising Extraction Tool for Medicinal Plant Researchâ€, Journal of Pharmacognosy Reviews of India, Vol 1.
Munawaroh, S. dan Handayani, P.A. (2010), "Ekstraksi Minyak Daun Jeruk Purut (Citrus hystrix D.C.) Dengan Pelarut Etanol dan N-Heksanaâ€, Jurnal kompetensi teknik, Vol 2.
Pico, Yolanda. (2013), "Ultrasound-assisted extraction for food and environmental samplesâ€. Journal Trends in Analytical Chemistry, vol 43
Sereshti, H., Rohanifar, A., Bakhtiari, S., dan Samadi, S. (2012), "Bifunctional ultrasound assisted extraction and determination of Elettaria cardamomum Maton essential oilâ€. Journal of Chromatography , Vol.1238, hal.46-53
Shi, J., Yeoh, S., dan TAG, Langrish. (2007), "Comparition between Different Techniques for Water-Based Extraction of Pectin from Oranges Peel , Vol.218, hal.229-237
Xu, yuan dan Pan, Siyi. (2012), "Effects of various factors of ultrasonic treatment on the extraction yield of all-trans-lycopene from red grapefruit (Citrus paradise Macf.)â€. Journal of Ultrasonics Sonochemistry , Vol.20, hal.1026-1032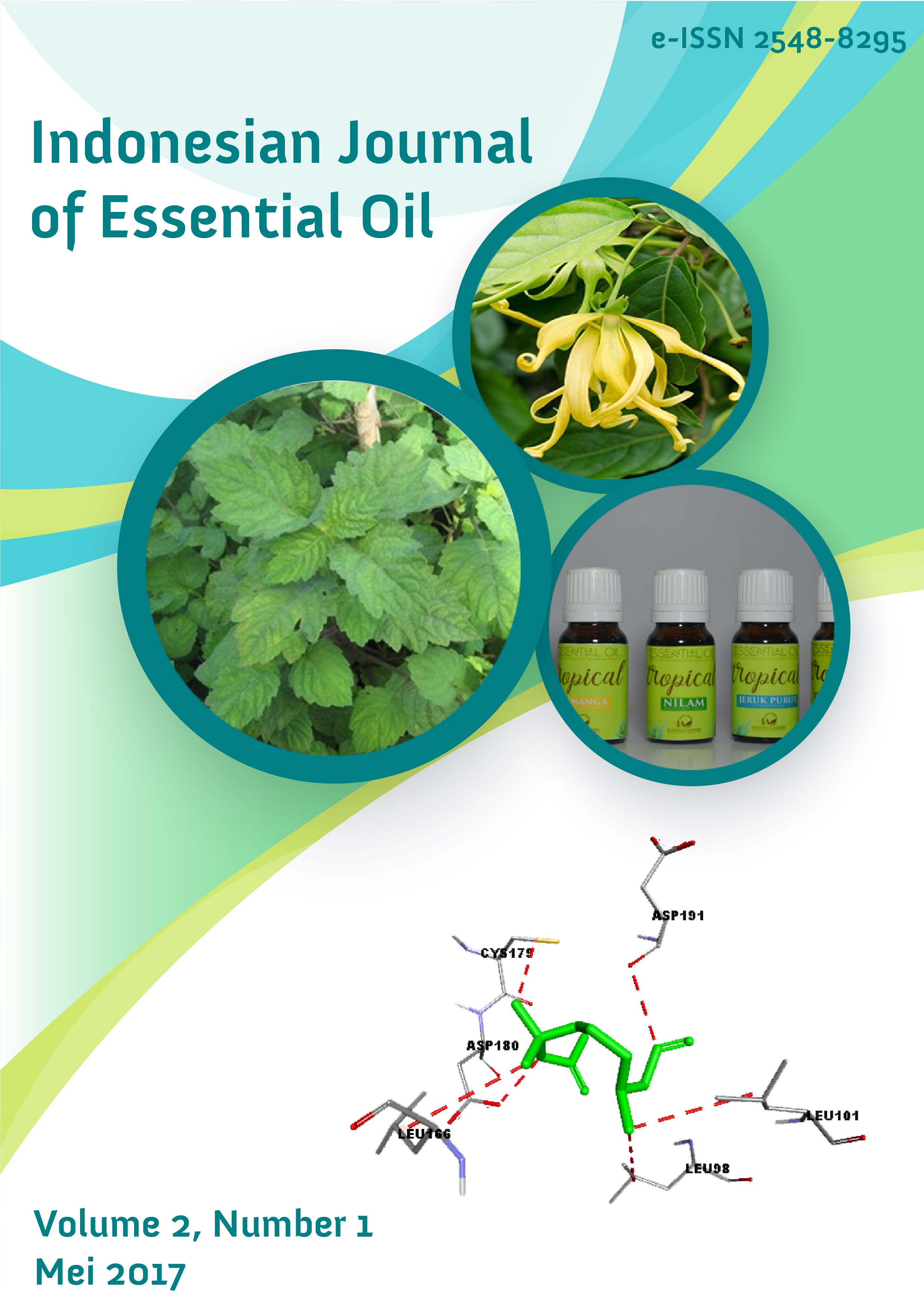 Downloads