Minyak Atsiri dan Ekstrak Bunga dan Daun Temulawak sebagai Antioksidan
Keywords:
Curcuma xanthorrhiza, DPPH, fitokimia
Abstract
Temulawak (Curcuma xanthorrhiza) merupakan tumbuhan yang banyak dimanfaatkan untuk tujuan kesehatan terutama bagian rimpangnya. Minyak atsiri rimpang temulawak juga telah dilaporkan, namun bunga dan daun temulawak belum banyak dieksplorasi termasuk minyak atsiri dan ekstraknya. Penelitian ini bertujuan menapis minyak atsiri dan ekstrak bunga dan daun C. xanthorrhiza sebagai antioksidan menggunakan metode DPPH (2,2- difenil-1-pikrilhidrasil). Minyak atsiri daun diperoleh menggunakan metode distilasi air. Bunga dan daun diekstraksi menggunakan n-heksana, etil asetat, dan metanol. Ekstrak etil asetat daun mempunyai potensi antioksidan terbaik dengan nilai IC50 41.50±7.80 μg/mL namun tidak sebaik asam askorbat sebagai kontrol positif dengan nilai IC50 3.36±0.29 μg/mL Berdasarkan uji kualitatif fitokimia, didapat bahwa ekstrak etil asetat daun temulawak mengandung kelompok senyawa flavonoid, alkaloid, steroid, dan triterpenoid. Minyak atsiri daun temulawak yang juga mengandung terpenoid tidak mampu menghambat 50% radikal DPPH hingga konsentrasi 167 μg/mL.
References
Liu Y, Nair MG. 2012. Curcuma longa and Curcuma mangga leaves exhibit functional food property. Food Chem 135: 634-640.
Nuratmi B, Adjirni, Paramitha DL. 1996. Penelitian farmakologis sambiloto (Andrographis paniculata). Warta Tumbuhan Obat Indonesia 3: 23.
Sudewo B. 2004. Tanaman Obat Populer Penggempur Aneka Penyakit. Jakarta: Agro Media Pustaka
Venkatesan P, Unnikrishnan MK, Kumar SM, Rao MNA. 2003. Effect of curcumin analogues on oxidation of haemoglobin and lysis of erythrocytes. Curr Sci 84: 74–78
Uehara SI, Yasuda I, Takeya K, Itokawa H, 1992. "Terpenoids and curcuminoids of the rhizoma of Curcuma xanthorrhiza ROXB,†Yakugaku Zasshi, vol. 112, no. 11, pp. 817–823.
Pokorny J, Yanishlieva N, Gordon M. 2001. Antioxidant in Food: Practical Application. New York: CRC Pr.
Halliwel B, Aeschbach R, Lolinger J, Auroma OI. 1995. Toxicology. J Food Chem 33: 601-617.
Ozyurt D, Demirata B, Apak R. 2007. Determination of total antioxidant capacity by a new spectrophotometric method based on Ce (IV) reducing capacity measurement. Talanta 7: 1155–1165.
Krishnaiah D, Sarbatly R, Nithyanandam R. 2010. A review of the antioxidant potential of medicinal plant species. J Food and Bioproducts Processing, DOI: 10.1016/j.fbp.2010.04.008.
Koleva I, van Beek T, Linnssen JPH, de Groot A, Evstarieva LN. 2002. Screening of plant extracts for antioxidant activity: a comparative study on three testing methods. Phytochem Anal 13: 494-500.
[AOAC] Association of Official Analytical Chemist. 2007. Official Methods of AOAC International. Revisi ke-2. Volume ke-1. Maryland: AOAC International
Harborne JB. 1987. Metode Fitokimia: Penuntun Cara Modern Menganalisis Tumbuhan. Ed ke-2. Kosasih P, Iwang S, penerjemah; Bandung: ITB. Terjemahan dari: Phytochemical Methods.
Batubara I, Mitsunaga T, Ohasi H. 2009. Screening antiacne potency of Indonesian medicinal plants: antibacterial, lipase inhibition, and antioxidant activities. J Wood Sci 55: 230-235.
Batubara I, Julita I, Darusman LK, Muddathir AM, Mitsunaga T. 2015. Flower Bracts of Temulawak (Curcuma Xanthorrhiza) for Skin Care: Anti-acne and Whitening Agents. Procedia Chemistry. 14: 216-224. https://doi.org/10.1016/j.proche.2015.03.031.
Amic D, Amic DD, Beslo D, Trinajstic. 2003. Structure-radical scavenging activity relationship of flavonoids. Croatia Chem Acta 76 (1): 55-61.
Sukrasno, Kartika, Fidrianny I, Elfahmi, Anam K. 2012. Influence of Storage on the Volatile Oil Content of Curcuma Rhizome. J Med Plant 6: 274-280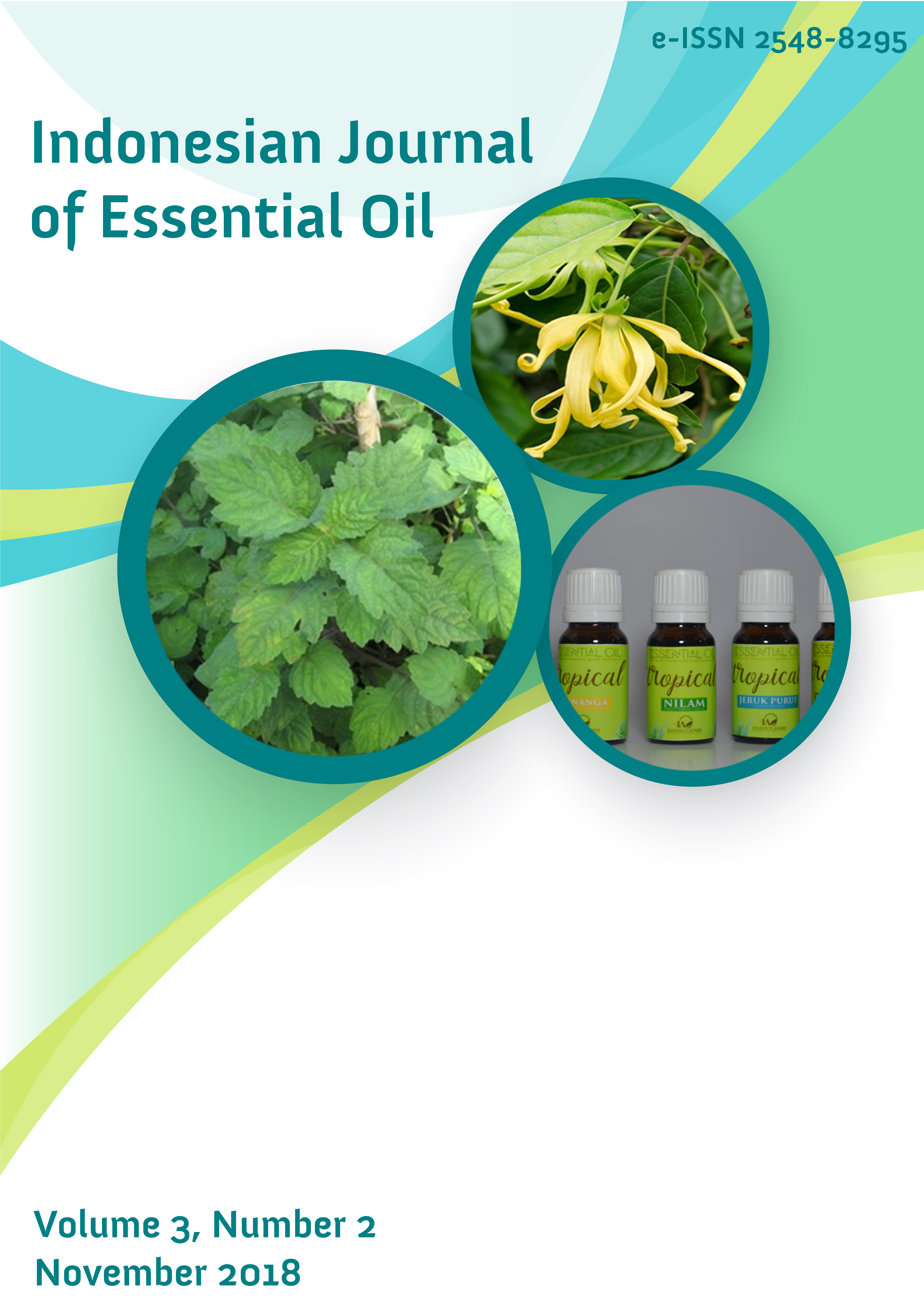 Downloads